Electrical Tunable Fibre Bragg Grating
The new Electrical Tunable Fiber Bragg Grating with model number OETFG-200E from O/E Land Inc. offers the flexibility of the electronically controlled tuning of the FBG wavelength in a compact, turn-key solution product. It can provide stable tunable range, simple structure, high resolution, and long life time.
The tunable filtre uses fibre Bragg grating technology and, when available, an optical fibre circulator to provide a bandpass signal to the output port. Circulators are readilty available at the 1060 nm, 1310 nm and 1550 nm ranges. For other wavelength ranges, please inquire about customized solutions.
A bandstop option, without circulator, is also available. In the bandstop version, the bandpass signal is reflected back into the input.
FBG specifications can be customized (some limitations apply). The customer can use computer-controlled operation in a user-friendly interface through the USB port to tune the wavelength.
The Electrical Tunable FBG can be used as dynamic add/drop, wavelength router/switch, dynamic dispersion compensation fibre grating, dynamic gain flattening, tunable fiber laser, fiber sensor system, and also in any other custom applications, where tuning of the FBG wavelength is required.
Features:
Custom FBG specifications (some limitations apply)
Bandpass or bandstop mode
SM and PM fibre options
High resolution
Long lifetime
Low insertion loss
High reliability and repeatability
USB interface and software control
DC 12 V power supply
Turnkey solution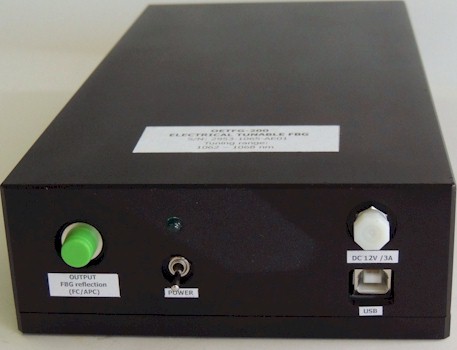 Specifications:
Parameter
Unit
Value
Tuning method
-
Electrical
Operation
-
Software controlled
Connectivity
-
Receptacle for FC/PC or FC/APC, fibre pigtail
Fibre type
-
SM, PM
Fibre jacket size (for pigtailed version)
mm
0.9 or 3
Wavelength tuning range (max)1
nm
20
FBG central wavelength2
nm
600 - 2100
Tuning resolution (max)3
nm
0.01
Tuning speed (max)4
nm/ms
0.02
Optical power handling (max)
mW
500
Operating temperature
°C
0 - 50
Storage temperature
°C
0 - 70
Power supply
Voltage
VDC
12
Current
A
2
Dimensions (Length x Width x Height)
mm
210 x 110 x 50
Weight (approx.)
kg
< 1
Tuning range can vary depending on FBG specifications, especially the length. Some limitations apply.
FBG parmeters can be customized. Some conditions apply, depending on the tuning range required.
Maximum resolution is achieved when lowest speed is used.
Maximum speed is achieved when lowest resolution is used.
Interface:
The software controlled version of the new Tunable Electrical FBG comes with drivers and GUI for operating the unit. It provides flexibility for controlling the most important parameters such as tuning wavelength, speed, resolution, as well as many scanning options – full or partial range, multiple or continuous scan. The device could also be completely calibrated by the user in the case of off calibration.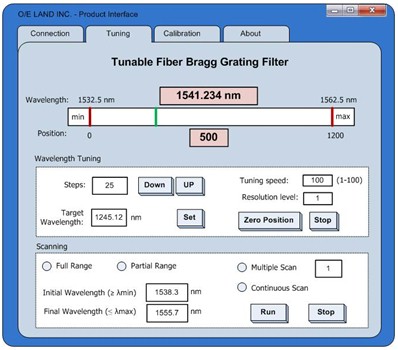 Note: All specifications are subject to change without notice.
Go back